ARTifact Studio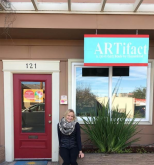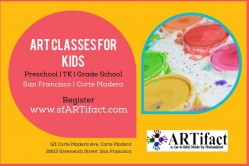 ARTifact Studio is a school that provides art classes for children aged 2.5-12 years old in San  Francisco and Marin County. We specialize in art enrichment programs, creative workshops, summer camps, and more.
A typical ARTifact class includes a lesson in art history, an exploration of mixed materials (painting, drawing, crafts, etc), time for creative expression, and an investigation of an idea the kids themselves have wanted to try, but don't dare do at home.
Sign-up directly on the website or contact us for more information.
121 Corte Madera Ave
Corte Madera, CA 94925
(Map and Directions)
Website: http://www.sfartifact.com/
Email: sfartifact@gmail.com
Phone: (415) 335-9338

Categories: Art, Classes, School, Kids, Children, Activities, Lessons, Preschool, Toddlers, Marin
---
Next: AT&T Corte Madera
Previous: Apache Signs